For Release:
December 15, 2022
Virginia Unemployment Insurance Weekly Initial Claims at 1,346; Administrative Support and Waste Management Leading Industry for Claims
~ Seasonally unadjusted weekly initial unemployment insurance claims increased from the previous filing week, with continued claims also higher over that period ~
RICHMOND—The Virginia Employment Commission (VEC) announced today that the number of initial claims increased in the latest filing week to 1,346, returning to a level typically seen earlier in the year.
For the filing week ending December 10, the figure for seasonally unadjusted initial claims in Virginia was 1,346, which is an increase of 135 claimants from the previous week. Over half of initial claims with a self-reported industry from administrative support and waste management, construction, professional, scientific, and technical services, retail trade, and health care and social assistance. Continued weeks claimed totaled 8,620, which was an increase of 721 claims from the previous week, but a reduction of 78% from the 38,389 continued claims from the comparable week last year.
Eligibility for benefits is determined on a weekly basis, and so not all weekly claims filed result in a benefit payment. This is because the initial claims numbers represent claim applications; claims are then reviewed for eligibility and legitimacy.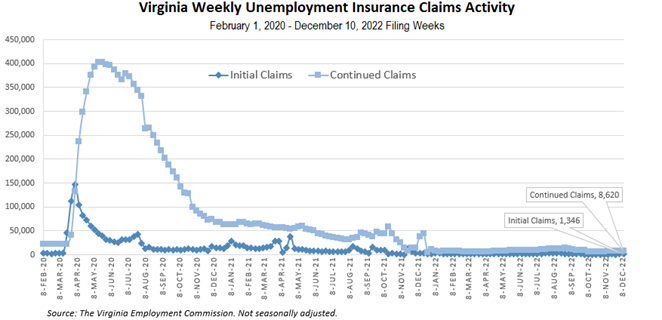 In the week ending December 10, the advance U.S. figure for seasonally adjusted initial claims was 211,000, a decrease of 20,000 from the previous week's revised level. The previous week's level was revised up by 1,000 from 230,000 to 231,000. The advance number of actual initial claims under state programs, unadjusted, totaled 248,881 in the week ending December 10, a decrease of 39,095 (or -13.6 percent) from the previous week. There were 265,692 initial claims in the comparable week in 2021. Looking at preliminary data, most U.S. states reported decreases on a seasonally unadjusted basis. New York's preliminary weekly change (-6,887) was the largest decrease. Georgia's weekly change (-4,498) was the second largest decrease. Texas's preliminary weekly change (-4,448) was the third largest decrease. California's weekly change (-4,187) was the fourth largest decrease. Virginia's preliminary weekly change (+399) was the second largest increase.